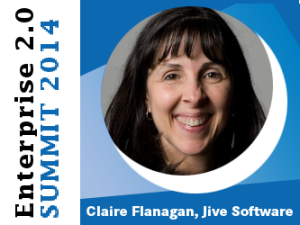 Next in line at our pre-conference interviews is . She is the director of Business Value Strategy at Jive Software.
She has a "solid track record in Enterprise 2.0, social business collaboration strategy, communities and adoption".
This makes her perfect for being part of the expertise panel to discuss "Driving the Engagement & Adoption".
1) Claire – you are a speaker at E20S 2014 giving a talk about the challenges and good practices for the adoption management for social initiatives. What are the three tags that can be used as labels for your talk?
2) The adoption is key to the success of social initiatives – but what is key to the successful adoption management?
A recent survey of over 800 social business customers revealed that the top three adoption success factors were:

Senior leader role-modeling (87%)
Integrating social business into day-to-day business activities (selecting the right use cases) (81%)
Removing redundant, outdated tools (63%)

(* Results from survey conducted by a top 3 independent global consulting company of Jive Customers Nov 2012)
3) Are there specific adoption strategies in regards to the organization of the timing of activities that can be recommended as good practices for the adoption process?
I will address this more in my talk. When looking at internal social programs we typically suggest organizations start with a wide use case (one that will touch a broader employee base) and a deep use case (one that will drive value in an important business process). We then suggest organizations build on the change momentum and onboard 2-3 new use cases in waves, typically no more than 3 months apart. The speed of use case onboarding and change program implementation may vary, but we see the road to value accelerated in those organizations that are aggressive both in the speed and volume of use cases tackled.
4) In the practical implementation the adoption process is never executed on the whole organization at once but split up in different parts. What are your recommendations on what parts of the organization to take first into the adoption process?
Actually, I don't agree that the adoption process can never be executed on the whole organization. At CSC we deployed our 6-month pilot as one that was limited in time, but not in audience, therefore allowing the entire organization. This allowed us to see if our adoption practices were sound and if our tool selection was correct. In addition, it allowed the system to take off and become viral, rather than limiting the use to certain groups, which can sometimes stifle the collaboration and serendipity.

To be successful at the outset we: 1) Located executives to walk the talk 2) Located and engaged global advocates throughout the business and 3) Identified and seeded over 200 use cases throughout our business. Our practices were successful and we saw rapid adoption throughout the business – one that helped justify the permanent investment in the program.

However, not every company is ready for the same approach. In my business value strategy role at Jive Software we look at each customer's needs and formulate recommendations based upon where sponsorship may be coming from, the organization culture and the use cases that may drive the most immediate benefit.

For example, if a prospect's business relies heavily on product and product support – we may suggest starting with customer support use cases where social can improve call deflection, reduce call escalation and drive support desk costs down. But that same recommendation would not apply to a company that sells consulting services, for instance, where improved account management, or reducing the time in bid and proposals may provide more immediate benefits.
5) What are the important roles for the adoption team? And are these roles just related to the adoption process? If so – what is the role of this people in the long run of the project?
For the most part all the roles below are important not only in the launch of the program, but in the ongoing growth and maintenance of the program. One individual may fill several roles at the outset, but larger, mature programs will grow the teams to support the program.
Social Strategist – This role typically has overall responsibility for the social business / community program strategy, stakeholder engagement, governance, policies, leadership, and organization transformation. In a true social enterprise, this role considers the social strategy across all aspects of the enterprise's eco-system – inside, outside and across the firewall.

Enterprise Community Manager – This role is responsible for implementing strategies that drive effective, business use and is typically responsible for engagement planning, moderation, new use case onboarding, coaching sub-topic/use case community leaders and engaging advocates and SME's.

Topic / Use Case Owners (Local Community Managers) – These are typically "community managers" for business use cases or topics on an internal or external community. They seed and moderate conversations and invite, engage, and support members.

Advocates – These are typically volunteers in your social business / community program with a passion to build groundswell awareness and business use of the platform. They do real work in the community by seeding/leading topics, spreading word of mouth about how to get real work done and can welcome members or provide end user support.

Subject Matter Experts – These individuals typically have deep functional / topic knowledge and play a formal, designated role in the community in a way that compliments and extends their primary job function in their area of expertise. They provide high-value content, answer questions directly,mentor and guide community members.

Platform Owner (Technical) – This individual has overall responsibility for the platform's technical architecture, release management, performance, scalability, security, and system health. This person oversees all efforts related to development, architecture, hosting, security and other platform decisions.

Organization Change / Marketing & Communications – For internal communities often someone from corporate communications, HR or a change office will get involved to help promote the community, drive key programs and deliver training on new ways of working with modern, digital tools. For external communities, typically marketing and the social media teams are responsible for planning awareness and engagement programs to drive value with external thought leaders, customers, partners, and prospects.

Project / Program roles – Typically teams will have a program or project manager and other supporting IT, support or business analyst roles to help with both the launch of the program and ongoing release management and end user support activities.

Sponsors – Finally, every program requires executive sponsors. These individuals reviews and approves strategy, provides direction and resources to the project team and promotes the value proposition to their executive network and general employee population.
Thank you for sharing your thoughts Claire, we're looking forward to your talk during the Enterprise 2.0 Summit.